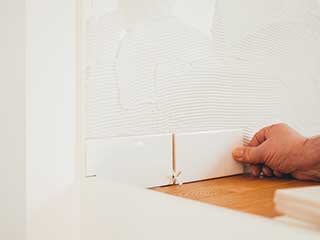 Whether you're having a new home built or your old one remodeled, you will probably require at some point tile installation. Tiles are a popular choice for floors and even walls. The wide selection of styles, colors and designs ensure that there is something for every taste. They are also readily available so it would be easy to find those that meet your needs. If you're after materials that are not difficult to maintain, then tiles are also a good choice – perfect, especially for busy individuals who may not have much time cleaning or taking care of other floor materials like wood. Drywall Repair Brentwood is your go to service provider when it comes to this. We have been first-rate offering wall and floor tile installation for a long time, allowing us to gain several loyal clients over the years.
We Specialize In Tile Installation And Other Tile Services
Our world class experts at Drywall Repair Brentwood are experienced in installing all kinds of floor tile patterns, including checkerboard, pinwheel, herringbone, basketweave, and windmill. Having these tile patterns installed require accuracy as a single mistake could ruin the result. Technicians are highly skilled and trained so you can be sure the job is implemented perfectly. We work on all types of tiles such as granite, slate, ceramic, marble, and glass tiles plus on your outdoor tile installation, too. Some of the other areas where we can install your tiles are the patio and pathway.
Tiles are commonly seen inside homes and offices in bathrooms, shower rooms, and the kitchen. Our services include the installation of backsplash and countertops. If you need broken tile repair, trust us to provide fast and reliable help. Expect to achieve the original appeal of your damaged tiles once we're done, since we invest only in top quality products and materials to make work even more effective. If some of the tiles require replacement, we'll get tiles that have the same design as the ones that require replacement so they match together. Moreover, also offer cleaning services for tiles. While they are often easy to maintain, it's still recommended you get professional cleaning service to keep the beauty of your tiles. Tile grout could easily get dirty and be challenging to remove the dirt. Our technicians wouldn't have problems taking care of this concern. Don't hesitate to contact us for any issues or concerns.
Count on us for:

Popcorn Ceiling With Soarkle

Tile With Wire Mesh

Drwall & Ceiling Tiles

Drywall With Vapor Barrier